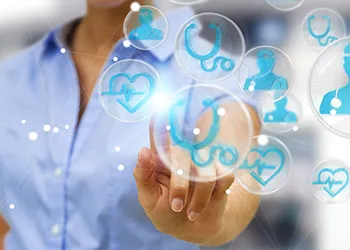 Not too many years ago, most people had a doctor they could call their own. Their doctor would take care of their medical needs, and serve as a counselor to the family regarding health and lifestyle concerns. The doctor would be a cheerleader during times of family celebration and a shoulder of comfort during times of grief. The doctors' attendance at a wedding, high school graduation, or funeral would not be uncommon. The physician was a reliable partner in the lives of their patients. Office encounters would last anywhere from 30 minutes to an hour. During that time, medications would be examined, recommendations about lifestyle changes emphasized, and a new appointment scheduled. The kids might even get a lollipop or apple upon leaving.
Your interaction with the doctor was an integral part of "the medicine" you received. You more than likely left the visit feeling cared for, even if you weren't cured.
Healthcare has changed.
The doctor "as medicine" is going away. Doctors, now mostly employed by healthcare corporations, have little time to be "the medicine".
RMS Consultations offers you an opportunity to be cared for again. Come in for a consultation and sit down with a physician. The RMS physician will go over your medical history, current medications, and lifestyle questions. Once a review of your problems and medications is completed, recommendations about what might be changed or simplified will be discussed. At your request, a letter about what was discovered and recommended can be written to your treating doctor.
Some of the most important topics of consultation in RMS Consultations are:
-Medications, now more powerful than ever, are often prescribed without explanation. Patients of family members discharged from hospitals with new prescriptions to add to the meds they were already taking, often have no idea what to continue taking or what to stop.
- An overall decline in function, particularly following a long illness or recent hospitalization. Less walking, difficulty getting up or down stairs, increased frequency of falling, or less general mobility and independence in you or your loved one is often misunderstood and poorly treated in this era of specialization medicine. Patients often don't know the specifics to quickly describe the problem, and there's often too little time in a conventional office visit to have the discussion with the treating doctor. With appropriate attention, a diagnosis can be made and appropriate therapies and interventions undertaken to reverse the decline.
-How lifestyle affects general wellbeing is a major topic for most people. It's almost impossible to adequately address the topic in a short, symptom focus office visit. Information overload from television, the internet, and social media overwhelm and confuse most patients concerned about what lifestyle changes to make. Who can get answers to these questions when an average doctor visit is less than 15 minutes ling? An RMS consultation can be a priceless opportunity to simplify what is needlessly complex about this important topic.
Now, increasing numbers of doctors are employed by hospital systems or health care corporations. They now see more patients in less time and have more documentation to complete than ever. You may not even see your doctor at an appointment you waited 4 months for. Instead, you might see a nurse practitioner, physician assistant, or a medical resident. The visit is short, and you have questions but no time. You leave the appointment with medications you don't understand, and may not be able to afford. How long are you supposed to take the medicine? That's a gap. What do you do?
Your prescription medication list is growing and growing. You're not sure what to take and what to stop taking. That's a gap. What do you do?
You have ideas about making good changes in your lifestyle, but your doctor doesn't have time to talk with you about it. Every time you see a "Dr." program or infomercial on TV, read an article or go on the internet, you're given new and improved advice about how to improve your health, feel and look better? Who do you ask about what's true and what's not? That's a gap. What do you do?
These gaps are increasing. If you're waiting for the government, drug companies, or corporate health care providers to fix the problem, you'll probably be waiting a long time.
Our Mission Statement:
We, at RMS Consultants and Rehabilitation Medical Specialists, believe every human being is of incalculable value. As health care providers, we endeavor to care for our patient clients as we ourselves want to be cared for. We recognize that very few maladies are wholly curable, even in our modern times. However, we believe that providing care for others, no matter who they are is the foundational path to alleviating pain and anxiety, handicaps and dysfunction. Ultimately, it is by the consistent caring for others that we see the elimination of suffering.
RMS Consultants/RMS believes that the direction of healthcare is turning away from the care of patients, and toward treating disease. Treatment is quantifiable. It can be tallied with dollars and cents. Care cannot be. Less personal care and more government health care corporation guided treatment is being put forth as the only cost-effective way to address the medical needs of the majority of people. We at RMS disagree. Government agencies, health care corporations, and drug companies have taken up permanent positions between doctors and their patients. At RMS Consultations, we know how important treatment is. The recent shifts, however, have left gaps in the care many patients receive.
RMS Consultations is a unique medical service and has been designed to fill these gaps in health care.